Hallway Exhibitions
COSI is dedicated to providing exceptional exhibits for our guests, our hallways and public areas are no exception! Enjoy science and industry themed temporary and permanent exhibit acquisitions as you travel throughout our building. From gorgeous photography, sculptures, and interactive exhibits, COSI has it all. These thought-provoking collections are all included with general admission.

Check out these additions during your next visit:
Temporary Hallway Exhibits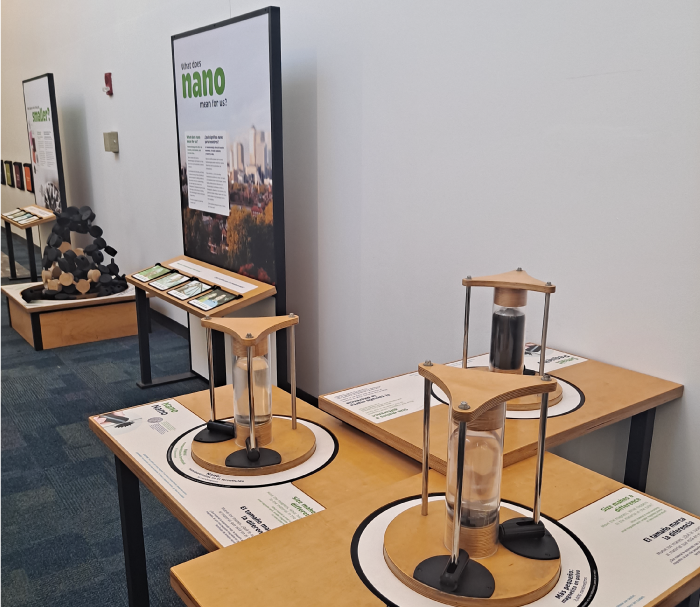 Nano
Nanotechnology is everywhere! This interactive hallway exhibit will explain what nano technology is, where to find it, and what it is used for. It will also help you explore how it affects your daily life as you see nano particles in action. This exhibit is located on the first floor of COSI, near our American Museum of Natural History exhibits.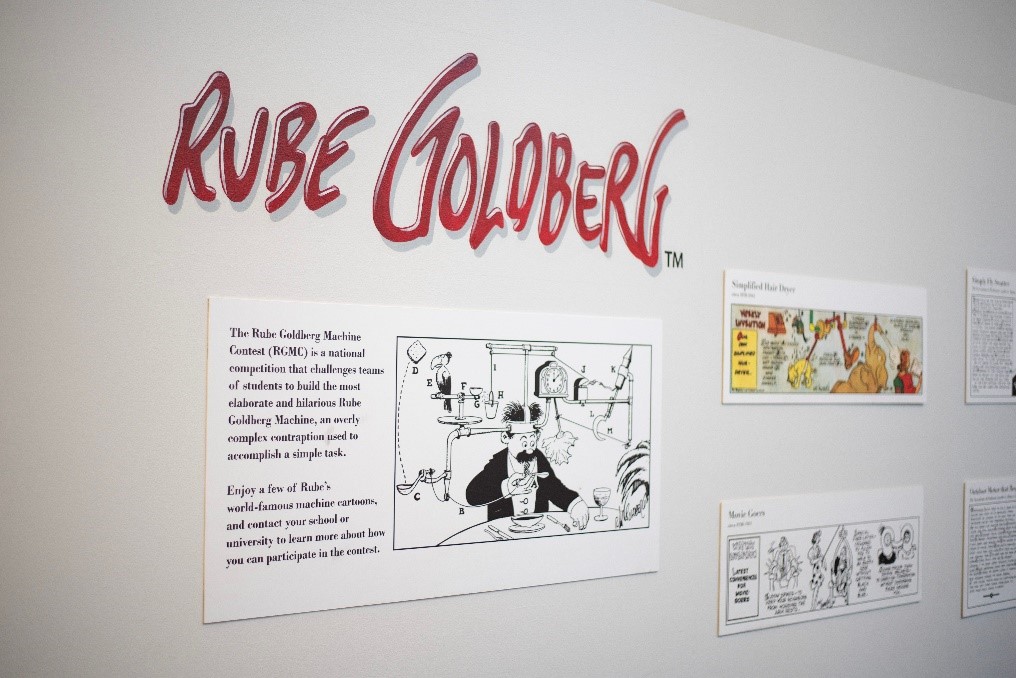 Rube Goldberg
This exhibit, located in the level 1 hallway near gallery 1 features cartoons of Rube Goldberg machines (an overly complex contraction to accomplish a simple tasks). This is also connected to a national competition representing teams of students that build elaborate and hilarious Rube Goldberg machines.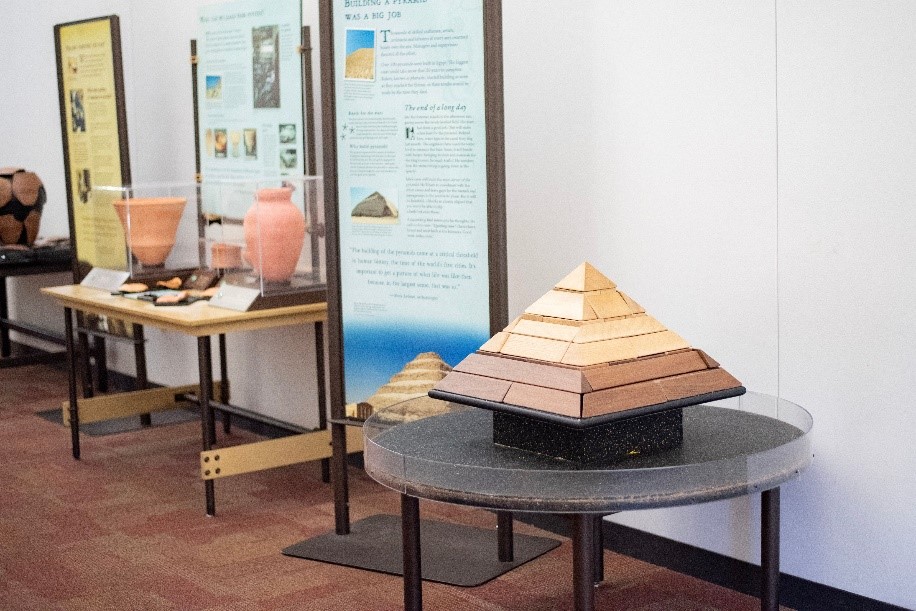 Lost Egypt
Learn about ancient Egypt as you explore the hallway between our Life gallery and Progress gallery at COSI, located on level 2. These Egypt themed interactives will allow you to build a pyramid, decode hieroglyphics, assemble ancient pottery fragments, and a lot more!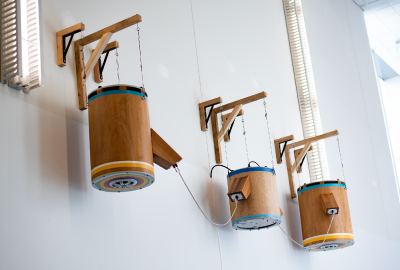 Memory Machine
Located between Gallery 1 and Ocean on level 1 at COSI, you will find our Memory Machine interactive art exhibit from local artist Daric Gill.
We often focus on what iconic places around the world look like, but not too much about what they SOUND like. In this exhibition, you'll hear some sounds from the hustle and bustle near the Eiffel Tower in Paris, a thunderstorm in the Swiss Alps, what behind Niagara Falls sounds like and much, much more! This is a way to encourage curiosity and catalog memories for others to experience. It is made with mostly recycled materials and uses motion sensing. For more information around the artist, please visit https://daricgill.com/author/dgillart/
Small World
For the past 48 years, the Nikon Small World Photomicrography Competition has been revealing the beauty of a world that can only be seen with a microscope. The winning images show diverse subject matter, from breast tissue with milk-producing alveoli to moth eggs to unburned carbon particles. These images are currently on display in the hallway outside of the Pterosaurs exhibition. Calendars are also available to team members, although supplies are limited. This exhibit is located in our AMNH hallway on level 1 near our Dinosaurs gallery.
---
Permanent Hallway Exhibits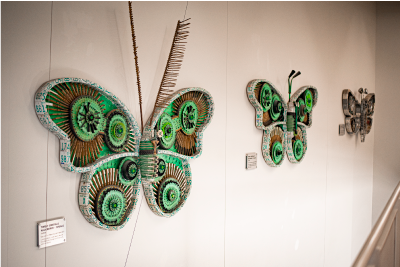 Michelle Stitzlein's "Moth Series"
Michelle Stitzlein has been creating sculpture with recycled materials as a full-time artist since 2000 in her Baltimore, OH, studio. Her work has been shown in art and craft museums nationally. The "Moth Series," was inspired by moths in her backyard and the premise that recycled materials have the capacity to metamorphose into larger objects of great beauty.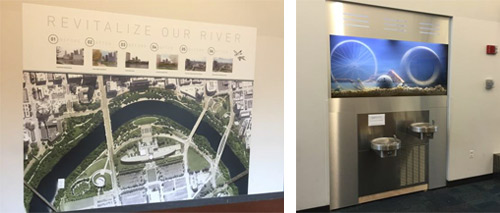 Scioto Greenways
The large wall mural on Level 2 communicates the Scioto Greenways project happening on the river including removal of the Main Street Dam, improvement of the ecological systems and river habitat, and creation of a stunning 33-acre greenway through Downtown. Additionally, 2 new interactive exhibits on Level 1 – Dirty Water Fountain and Outmuscle the Mussel – help to educate the public about river ecology.

Meet the Innovators
Discover how today's experts are making the vehicles of tomorrow in COSI's Meet the Innovators exhibit. Using hands-on exhibits and video interviews, encounter local innovators and explore their careers in science, technology, engineering, art, and math (STEAM). Learn how STEAM-based skills can help prepare tomorrow's innovators to create the as-yet unimagined transportation technologies of the future. Learn More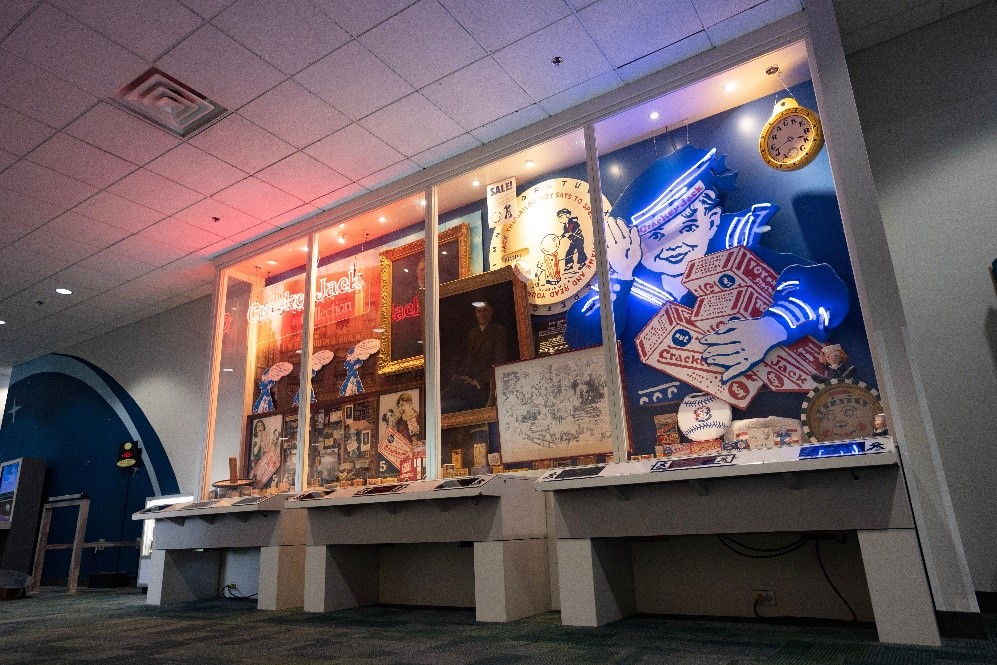 Cracker Jack
For 120 years, this American made snack food has been a favorite for many. Visit the Cracker Jack history exhibit in the hallway on the mezzanine level, near the space exhibit. View hundreds of historic Cracker Jack prizes and memorabilia.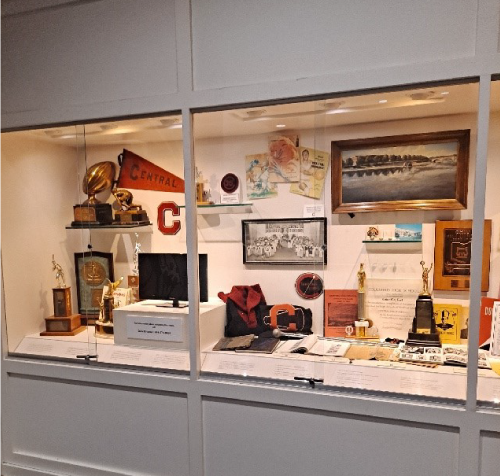 Central High Exhibit
Did you know that a large portion of the COSI building was actually a high school? Opening in 1924, Central High School served as the main high school for the downtown Columbus area until 1982. COSI opened at this location in 1999. Learn about the history of this building from students and teachers who were here during the time this was used as a school in this exhibit. Located behind the atrium on level 1.
---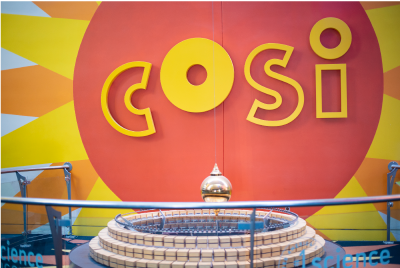 Pendulum
Visit the iconic COSI pendulum in our front entrance in front of our atrium. Did you know that the original COSI pendulum can be found in our history of COSI exhibit in our progress gallery? Pendulums have been a part of COSI since the first building opened in 1964. Learn about the physics behind this device while you watch it count down the hours.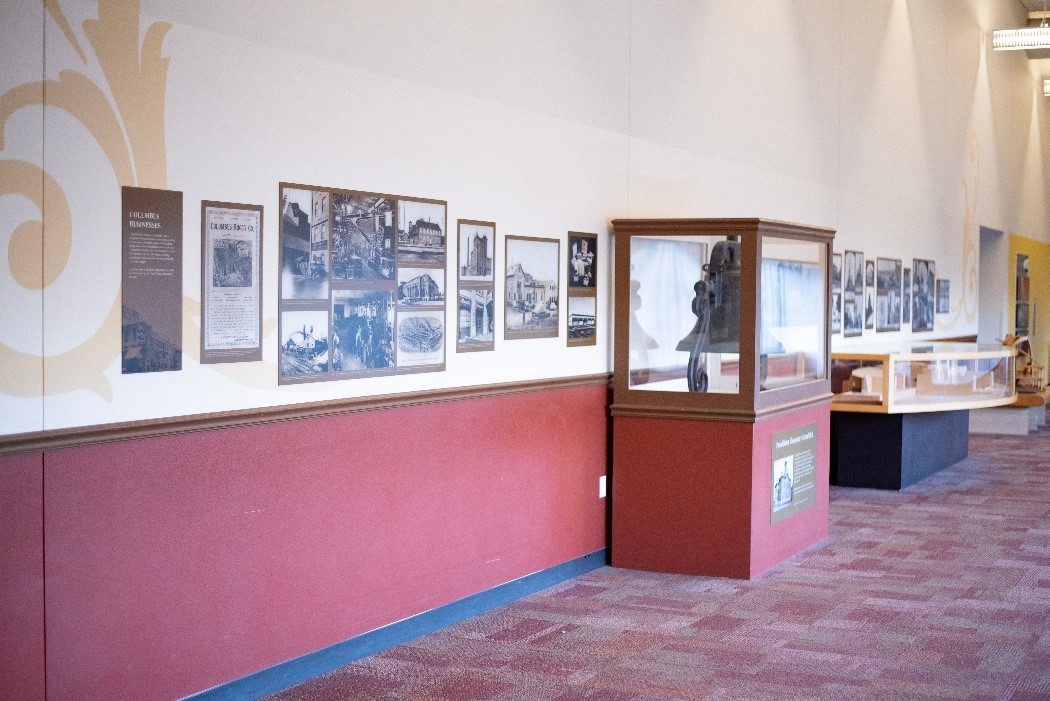 Local history and COSI models
On display in the hallway near the Progress gallery, you will find two architectural scale models of our current COSI building. Learn how the building was constructed with an interactive model. On the wall above the COSI models you will find historical photos and information regarding the local Columbus area. Historic Broad Street and early Columbus businesses are specifically featured and how they were instrumental in developing the area into what you see today!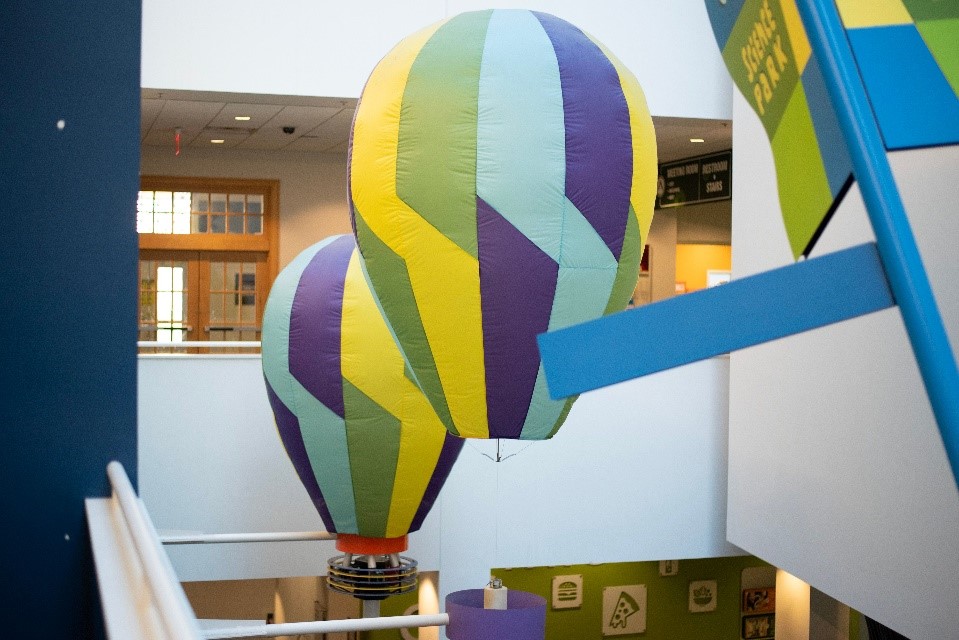 Hot Air Balloon
Have you ever wanted to control a hot air balloon without being inside it? Now is your chance with this interactive Hot air balloon exhibit, located on the Mezzanine level near the space exhibit.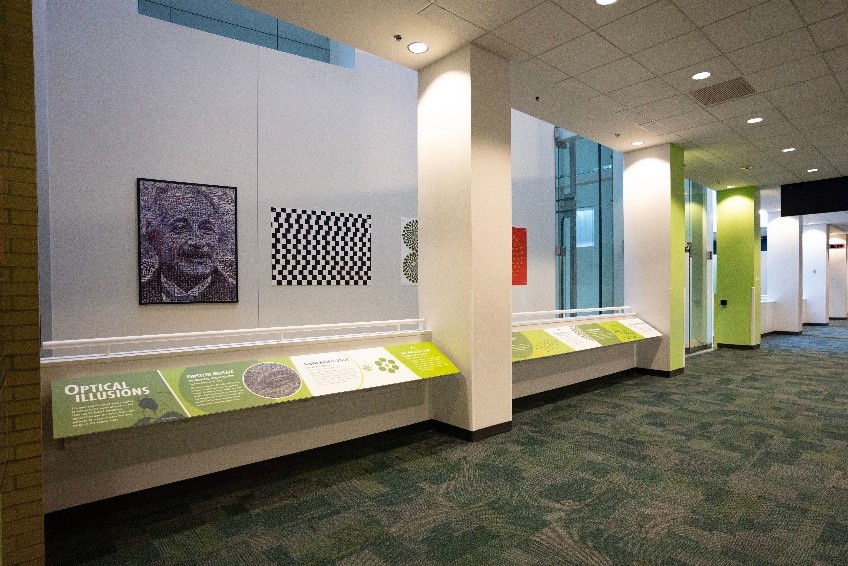 Optical Illusions
Found throughout the mezzanine and level 2 public spaces, you will experience how optical illusions function as you see them for yourself!
---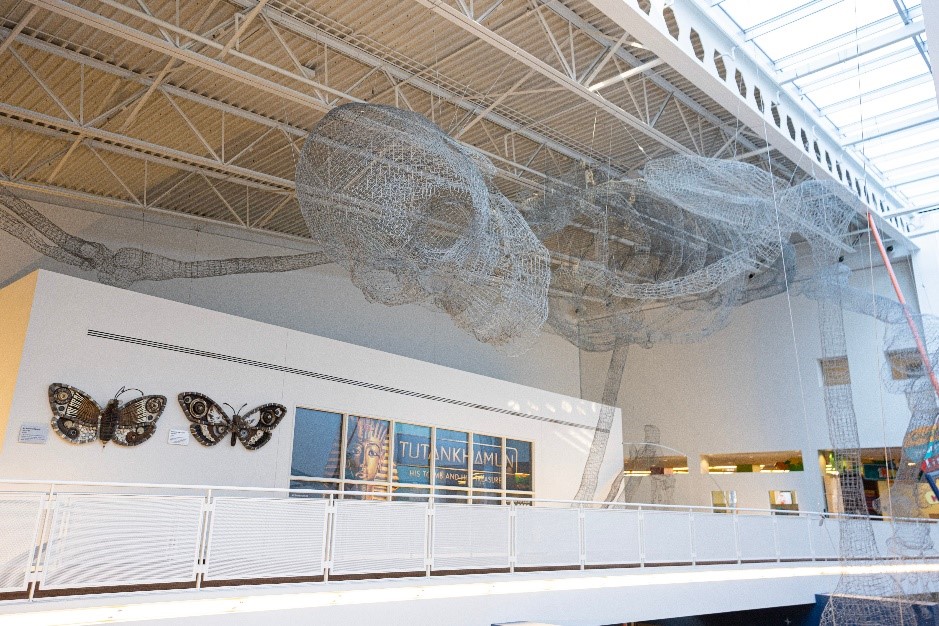 Gigantic
Gigantic is the name of the wire Skelton you will see suspended over the walk way on level 2. This 100 foot tall wire Skelton sculpture is constructed of metal fencing material by artist Tim Rietenbach.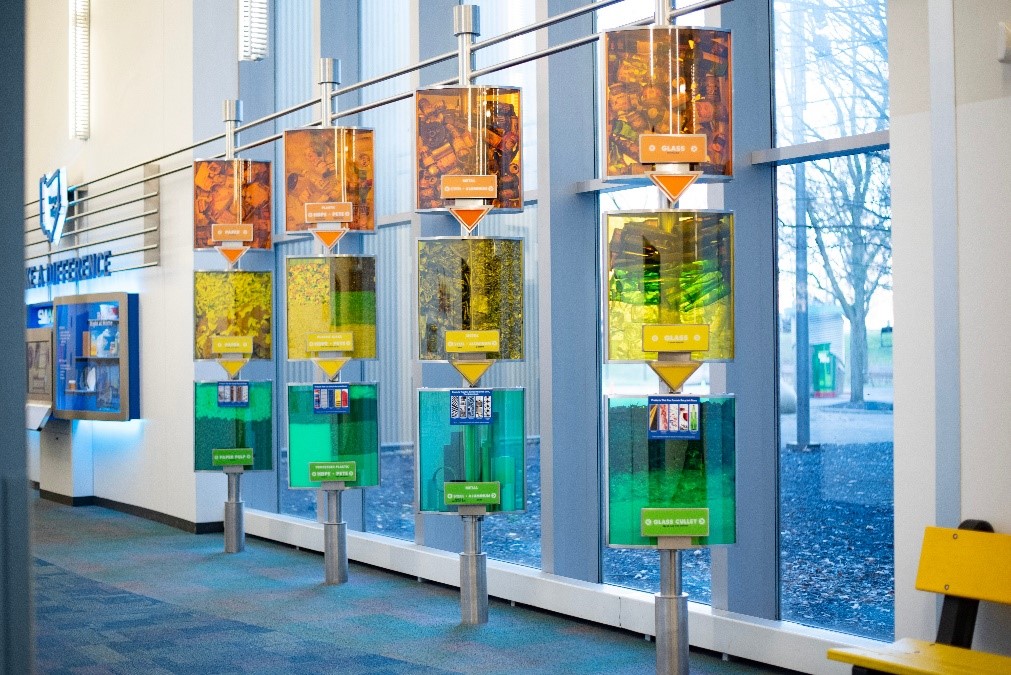 Recycling
SWACO (solid waste authority of central Ohio), in partnership with COSI, helped to develope this unique recycling exhibit on level 1 near big science park entrance. There you will find giant kiosks that illustrate how common recyclable materials are broken down. The display includes life cycles of recycled commodities and show consumer products that are made by recycling them. Computer monitors invite guests to quiz their recycling knowledge and learn how Recycling right can make a difference!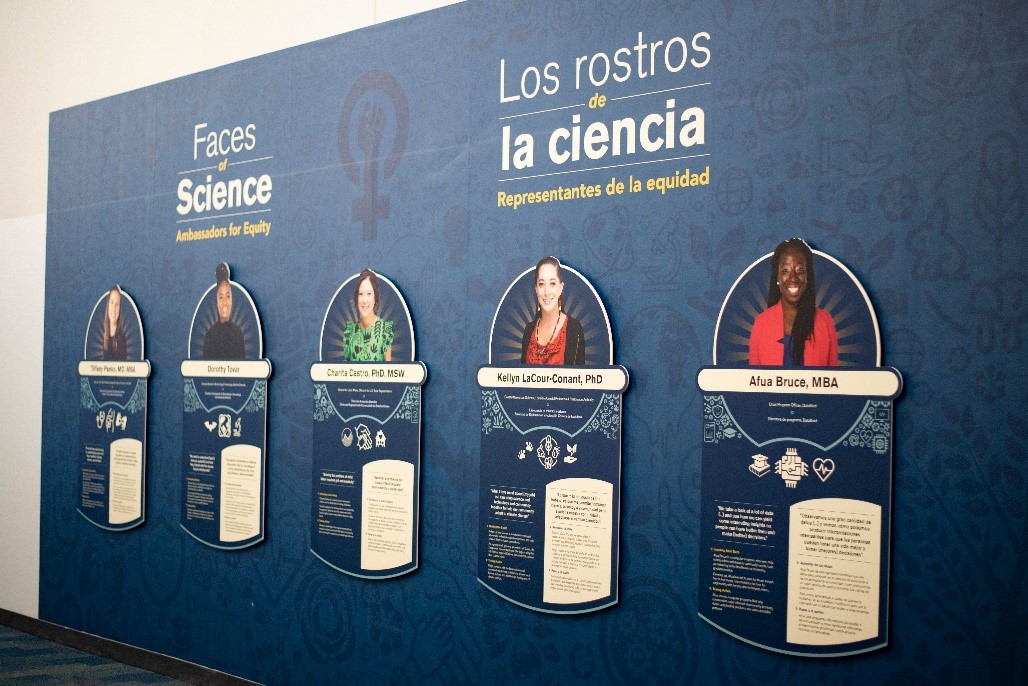 Faces of Science
Faces of Science, displayed on the first floor hallway near Molecules, features female professionals in science, technology, engineering, and mathematics (STEM) fields. Traditionally, women and gender minorities are underrepresented, which can make it challenging for science centers and museums to develop compelling visual content that allows girls to see themselves engaging in science. Also visit the IF/THEN® Collection—a growing digital library of photos, videos, and other media featuring women in STEM fields—provides a valuable resource for developing those materials. This exhibit is brought to COSI through a partnership with ASTC (Association of Science and Technology Centers).