COSI Classics
Hair-raising experiences. Cherished childhood favorites. Demonstrations that seem magical. COSI Classics, like our live stage shows, hallway carts, and most of COSI's iconic permanent exhibitions, are included with your general admission ticket or Membership. Drive a Mars rover in Space, see real-time research in Life, and lift a car in Big Science Park. Depending on COSI's daily schedule, you may also find yourself holding a meteorite, rooting for your favorite rat to score another basket, or feeling the heat from an exploding hydrogen balloon. COSI is different every day, but wonder comes standard.
Explore at your own pace.
We all learn at our own speeds, and in our own unique ways. COSI's spacious hallways and welcoming exhibitions invite you to explore the scientific world at your own pace. With more than 320,000-square-feet of floor space, plus ten major exhibition areas, there's plenty to see, study, absorb, and do at COSI. Dive into the depths of the seas in Ocean. Time-travel in Progress. Experience the wonders of our Universe through a Giant Screen film. Where to go from here? It's up to you.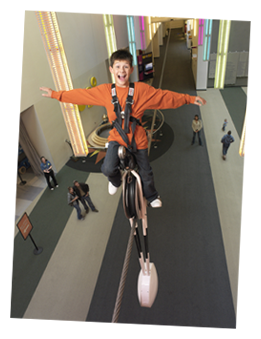 Ride a unicycle 17 feet above the ground!

Hours may vary. Please check the COSI App for daily hours.

Ride Restrictions:
Riders must wear closed-toe, flat shoes (no sandals, heels or Crocs)
Riders must have at least a 26-inch inseam in order to reach the pedals.
Riders over 250 pounds will not be permitted to ride.
For rider safety, this ride does not accommodate guests who are pregnant, have heart or back conditions or those with motor-skill disabilities.
*To accommodate all guests fairly, the line may close early. Please note: hours of availabilitiy are subject to change.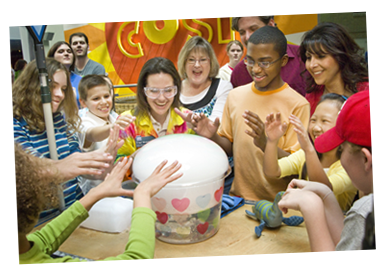 A different experience
every time you visit!
The world changes, you and your family change, and so does COSI. With limited-engagement exhibitions from renowned science centers and museums, an ever-changing lineup of spectacular large-format films, and new science carts and demonstrations, you'll learn something new about our fascinating planet every time you visit COSI. Planning to come back soon? Purchase a COSI Membership for an entire year's worth of knowledge.